Overview
Our Chirange Incident Command Android tablet and smartphone application is a powerful new visual communications tool for fire and police commanders that integrates secure enterprise data sharing with real-time GPS tracking of personnel and assets, and being an entirely mobile solution is very quick to deploy at any size of incident or operation.
Chirange is feature rich, robust and above all very easy to use. Before we wrote a line of software code, we gained substantial practical input and advice on the working practises and procedures from professional fire and police officers from the UK and US, to ensure that the application can mold itself to how you work, with extensive customisation options that permits you to easily deploy a fine tuned solution to meet your organisation's particular requirements.
The Chirange Incident Commander is a tablet based system that is totally mobile, and has been designed so that commanders, officers and any key personnel can operate anywhere at any time and can have total mobility around any incident scene yet still have constant access to all the important information concerning the incident.
When you first use Chirange you will clearly see the many benefits of the system in sharing incident information and allowing independent input of data and of viewing the incident or operation by all authorised officers and personnel concerned.  It really does take communications and accountability to a new level, it complements radio communications but provides visual information in a way that you never had before, it is like having a dynamic bird's eye view of the incident scene at all times.
Chirange has inbuilt flexibility, you can subscribe to our secure enterprise cloud service or host Chirange on your organisation's own servers/network, you can deploy Chirange Incident Commander as a standalone application or integrate it with existing computer systems or your own data sources.  Chirange is a totally scalable solution, you can start small and grow the system to meet your operational needs, add more tablets, add more GPS trackers, at any time. You can mix and match the hardware to meet your own particular requirements, may be not every device needs to be rugged, you choose what hardware you need, and you may be able to utilise existing GPS tracking devices like Blackberry, iPhone or Android smartphones.
We built Chirange to be affordable and cost effective, especially in these tough economic times. So we offer a wide range of purchase and billing options, you can lease the system over 36 period, be billed monthly, quarterly or annually, with inclusive automatic software upgrades and comprehensive 24/7 technical support.
To understand more about Chirange take a look at the extensive features and benefits that the Chirange Incident Commander can bring to your organisation, simply click on the other tabs on this page.
Features
Chirange Incident Commander provides total mobility, with a secure Android (version 4.0+) tablet and smartphone based application that uses existing 3G or 4G/LTE or Wi-fi data communication services (satellite data service will be available in 2014) to permit fire/police commanders and officers to operate any anywhere in the world.
Main Chirange Incident Commander Features
Easy usability

Easy finger tap navigation controls, pinch zoom and swipe 

Secure Cloud Service or Host on your own servers

Chirange is available either as a cloud service or you can host the application on your organisations own servers. Either way the Chirange tablets do not store data locally, everything is centrally stored and Chirange provides a high level of data encryption

Shared Incident View

Shared enterprise data, each incident can be viewed by any authorised personnel, officers simply request to join an incident and access is granted or rejected by the incident commander, the ownership of incidents can also be transferred to other commanders if needed

Geo-fencing Zone Alerts 

A major function of Chirange is to aid commanders with automated alerts that are triggered upon a breach of pre-designated rules. For example the creation of a geo-fenced zone (colour highlighted area on Google map) could be a dangerous chemical spill that is restricted to your personnel, if that were the rule then anyone equipped with GPS trackers that enters the zone area would automatically trigger a clear visual alert on the commanders tablet screen, denoting who is involved and where they are so a radio call can be promptly made making them aware of the situation. All zones and rules are fully configurable to the customer's particular requirements.

Real-time GPS tracking and incident updates

All people logged into an incident see GPS tracking in real time, they also view in real time any updates or input from other users to that incident, this is shared visual information and a powerful communications tool, every officer with a tablet can view the same information about the incident and input items to screen which are seen by everybody viewing that incident

GPS tracking of personnel and assets (callout box info) each person has their last name displayed under the position icon

You can track in real time any person or asset (like fire appliances) and set the GPS polling frequency to match your requirements. Every person or asset has their details stored in the backend database and tapping on their icon brings up a callout box displaying additional information like rank, mobile number, station and even a photo, you can easily customise the information you want to display

Commanders/Users Positioning

All Chirange Android tablets have GPS inbuilt, so once a commander logs onto Chirange their tablet location is automatically visible on the incident scene map.

Position Assets on the map

Assets are generally items like fire appliances, special vehicles, which can be manually positioned on the map of the incident using library icons, just drag and place where you want them. If vehicles have GPS tracking fitted they will simply appear at the incident and move around automatically.

On screen icons/symbols and annotation

Chirange comes with a standard library of screen icons and symbols for both fire and police services, but customers are free to create and use their own icon or annotation libraries

Web browser based Administration

Chirange is configured and administered by a web browser based application that is built on .Net and runs on MS SQL database, this element is where you configure Chirange to meet the requirements of your organisation, all customisation occurs here and this is what governs how your deployed tablets work

Full audit trail and logging

Every action, screen input, annotation, decision log entry made by any user is recorded in the central server audit trail, including every GPS tracking movement, IM or photo, all these are stored centrally in real-time

Incident Replay (Video) 

Once an incident has been closed it can be replayed in full at any future time, this is useful de-briefing, training or forensic analysis. Media player like controls allow you to view any previous incident at actual or fast speed, with pause controls and a simultaneous view of the event and messaging log this feature allows commanders to review the incident viewing all GPS tracking movements and on-screen activity, just like it originally occurred

Incident Reports

Chirange has an extensive web based reporting tool, that permits detailed reports to be compiled from any incident, there are default reports and user selectable fields to include in generated PDF reports.  Some reports feature the entire incident timeline and include things like every decision log, geo-fence breach, whilst others record every action taken by particular commanders, as Chirange records every detail about an incident, the reporting tool lets you quickly generate virtually any kind of report you need.

Viewing only what you want to see, turn on/off layers

To reduce screen clutter or information overload, we have created separate layers for items like groups, assets, hose lines and hydrants, so individual users can choose what they want to see at the incident, a simple tick turns off the layer and tick again to make it visible once more

Intelligent Digital Forms 

The Chirange application contains customisable smart forms that allow organisations to reduce paperwork and move to a completing forms on the tablet device, completed forms are all centrally stored and linked to a particular incident and can be distributed live for other personnel to see at the incident scene or recalled at any future point in time, but once an incident is closed the data on these digital forms is locked, so preventing changes.  Smart forms are designed to be very user and easy to complete, with tick boxes, drop down selections and auto-calculate and prompt users where necessary

Decision Log  

There is a simple note capturing feature that allows commanders to write brief comments about their main decisions during an incident, each "decision log note" is automatically time stamped and can also be viewed by other commanders, the contents are again centrally recorded in the audit trail and can later be printed in reports

View multiple incidents from any location 

Commanders and if desired HQ controllers can view multiple incidents, even commanders or personnel not on scene at the incident have the same capability to view any incident from wherever they are located

Create incident reference points 

Chirange allows commanders to create on screen visual annotations that in the case of a fire department may be sector numbering and sector lines for the incident, so all commanders can visually see what they are referring to (i.e. 1, 2, 3 or A, B , C)

Dynamic on-screen measuring

An obvious feature for the tablet with pinch and zoom functionality was to provide a dynamic and auto calculating measuring grid, that provides a vertical and horizontal total distance of the area that you are viewing on the tablet screen.  It could be in metres or kilometres depending on your zoom level, if you need imperial measurements that option is provided for too. This simple tool is very useful to measure and size the incident area or quickly measure the size of buildings

Distance measuring tool

This simple tool provide the user with point to multi-point measuring so you can quickly measure the distance from A to B or indeed A to B to C, simple but quick and effective

Create mesh search grid lines with automatic reference numbering 

This feature allows users to automatically create a grid line cell over any size of area, ideally suited to wildfire and search and rescue incidents, the grid mesh generates automatic number of all squares, with the cell size area being created by the user, it can be any size that you want (i.e. 100m, 1Km or 10Km)

Regional Settings
(imperial, metric, time zones)  

Chirange was designed to be deployed anywhere in the world and has customer configurable parameters like Regional Settings for time zones, measurements (metric or imperial) and time/date display options.

IM Messaging, Photo sharing and Live Video Streaming 

Most Android tablets have back facing cameras that can take photos and capture live high quality video. Chirange takes full advantage of this by allowing commanders to take and instantly share photographs of the incident, so that the incident commander and other users can view photos which are stored centrally and linked to the particular incident in the audit trail.  Similarly with video streaming, live video feeds can be viewed by the incident commander transmitted by any tablet user at the scene, this video feed could even be viewed at HQ or indeed anywhere to an authorised user. Chirangecomes with good IM capabilities, so messages can be sent to everyone or just to selected people

Live weather data feeds 

Chirange can link to any weather service to provide live weather data like local wind direction and speed that is automatically displayed in the right hand control panel

Water Hydrant location and status 

You can import or manually input location data of water hydrants, along with other utilities supplies that are then position on the Google map, simply tapping on the hydrant icon brings up all the details about that hydrant, flow rate, main size and its' status. To view all hydrants in a particular area click on the hydrant icon in the right hand control panel, hydrants are a layer, so tap again to turn this layer off

Map Tools

From Map Tools you create the incident boundary, sectors, zones, draw hose lines, measure distances and add annotation

Operational Mode Changes

Operational modes can be changed at any time by commanders, there are up to five modes to choose from and when a tactical mode is changed it automatically sends an alert to other users at the incident and is of course logged in the audit trail, so denoting when the mode was changed and by whom

GPS tracking breadcrumb trail

This layer feature permits commanders to view in real-time the path taken by personnel with GPS trackers, ideal for use in search and rescue operations, so show where people have already been
Benefits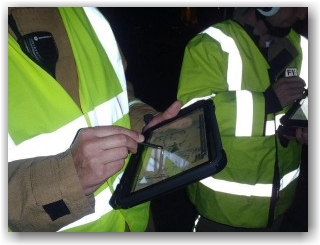 Chirange was never designed to be a heavyweight incident command system like many computer desktop based systems are that often take some time to deploy in the field and get up to speed when they arrive at an incident.  Instead the Chirange Incident Commander with GPS tracking is a tablet cloud based application, that can be deployed anywhere very quickly and scale up as and when the situation demands it.
"Commanders can usually have the incident baseline created within 2 minutes of arriving on scene"
Chirange is a cost effective small footprint solution, the only hardware you require are GPS trackers, GPS smartphones and 10 inch Android tablet computers and 3G/4G data communications, nothing else is required, other than the secure Chirange cloud service or the Chirange running on your organisations network.  That is all it takes to have the Chirange Incident Commander application up and running.
Ensuring Chirange was easy to use was a very high priority; it takes about an hour's training for officers to become proficient in using the tablet application, it is intuitive to use, all done by finger navigation, screen taps and swipes and there is a virtual keyboard that pops up when you want to enter information.
No data is stored on tablet devices, the cloud solution means data is held on secure servers, yet remote device management allows tablet devices to be remotely wiped or killed should they become lost or stolen, in any case GPS tracking enables you to track the devices location.
Our approach to allow customers to mix and match virtually any hardware can lower costs even further, if you have GPS smartphones already deployed, why not use them as trackers with the Chirange GPS tracker app.
New rugged Android tablets like Panasonic's new ToughPad (7 and 10 inch versions) like its laptop counterpart are designed for outdoor use with a daylight readable screens and a full shift battery (7 inch has hot swap battery) and comes complete with a three year warranty is the recommended choice for the Chirange Commander application.
ALL data transmissions are fully encrypted, so maintaining a secure environment.
We built Chirange's SaaS licensing policy around providing a license "per device" (tablet, GPS tracker or smartphone) and allowing you to unlimited number of users, that way it is clear, simple and more cost effective.
We had a design goal with Chirange of creating a nimble and flexible IC solution that is totally mobile with everything operated on Android tablet computers, allowing fire commanders and key officers the flexibility of being located anywhere on the incident ground and have access to valuable information and data about the incident, all available right in their hand.
Technical
The Chirange Incident Commander is a robust enterprise application that is built on Microsoft's .Net platform which uses Microsoft SQL database for all data storage so is a fully scalable solution, that has been designed to be available via the secure Chirange cloud service or the application can installed on customer's own servers/networks.
The Chirange tablet client is designed for use on Android 4.0+ (ICS) tablets or smartphones, leading manufacturers include Panasonic (Toughpad) and Samsung. We designed Chirange to be a flexible solution to deploy, so you can mix and match hardware to meet your organisations' particular hardware and operational requirement.
Each Commander tablet has inbuilt GPS tracking, so every Commander's position is automatically tracked, though for other personnel without tablets you can deploy GPS smartphones or dedicated GPS tracking units.  For smartphones there is a simple Chirange app which is available for Android smartphones but will shortly be available for Blackberry, iPhone, and Windows Phone. For dedicated GPS tracking unit we specify two devices currently that meet our recommended quality criteria that offer long battery life and a substantial array of features including the capability to measure and report back temperature change, non-movement alerts, relative humidity and much more.
All tablets, GPS trackers and smartphones, use wi-fi and existing commercial 3G/LTE (4G) cellular communication networks, providing resilience to organisations using dedicated or TETRA networks. During 2014 we will be introducing satellite data communications for both Commander tablets and GPS smartphone/trackers, permitting users to deploy the Chirange solution anywhere in the world even in the remotest terrains.
The administration for Chirange Incident Commander is a secure web based Silverlight application that controls all the system configuration, user and device management, security access, customisation and reporting.  This is
Summary table
Secure Chirange Cloud service or host the application on your organisation's own servers/network.
No data is stored on the Android Commander tablets, over the air data is fully encrypted.
Scalability, unlimited number of users, tablets or GPS trackers.
Chirange can import and utilise GPS tracking data supplied from external data sources.
Data communications using 3G, LTE (4G) wi-fi and Satellite (2014) offering near full area coverage anywhere on the planet.
Rugged Android tablets (Panasonic Toughpad) with daylight readable screen, has a full shift battery life 8-10 hours.
PDF Documents
Click to download the following PDF's:
Chirange Incident Commander Overview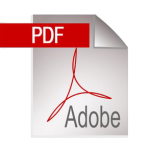 Sample Chirange Commander Report