Chirange has been involved with developing a number of intelligent indoor tracking solutions that are ideally suited to being deployed in GPS denied areas, like airport terminals and shopping malls. We work closely with companies like Skyhook how provide indoor positioning technology for locating smartphone devices via wi-fi connections and Micello who are specialists in creating geo-accurate detailed maps of indoor locations like shopping malls and airport terminals that can be easily navigated by smartphone or tablet users.
CTL typically treat this work as special projects as there is a bespoke element to designing and implementing indoor tracking technology that functions reliably and accurately inside buildings without the benefits of GPS signals, and then package this up into practical and cost effective solutions that are easy to deploy and add real value to both end users and businesses alike. We are able to produce valuable data and reports by tracking people passing through zoned areas which allows us to generate real-time analytical charts and reports that relate to foot-flow and people traffic in any location at any time, essentially converting breadcrumb tracking data into useful information for businesses.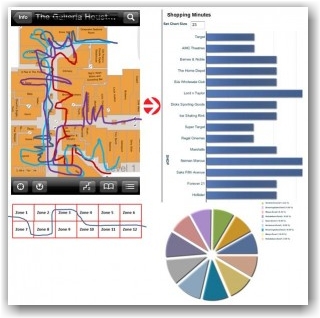 We have found two business areas in particular that are finding great interest in indoor location based services, these are airports and shopping malls. With airports using a simple downloadable app airlines have the ability to track the exact location of passengers who are running late to board their flights, passengers too benefit from having an app that offers them a countdown to boarding time and an alert to any flight detail changes like a delay or gate change all provided in real-time.
The passenger navigator app is designed to make full use of augmented reality (AR) to assist passengers in better navigating airport terminals, and at hub airports they can easily be guided from entry point to their departure gate, and along the way be view retail or special promotions in the airport shopping areas or search for particular shops or facilities.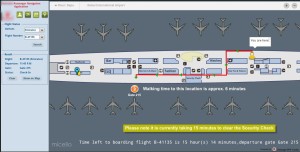 Similarly Chirange is working with one of the world's largest security companies to deploy a security guard monitoring application, again using smartphones and wi-fi indoor tracking technology to provide a cost effective solution that permits security managers to monitor the real-time movements of all their security personnel anywhere in the building or at events.  In addition to basic tracking of people the application provides a smartphone (or tablet) e-form task list that security personnel complete as part of their assigned duties, for example checking doors or passing designated waypoints at particular times, so providing an accurate record of all guarding activities of security personnel 24/7. This solution allows security mangers to view and match guard locations against specific tasks in a simple timeline against a guards shift, even with the capability to replay all movements of security personnel during the course of their shift. The Chirange application is highly suited for use in event management by organisers who need to track and monitor personnel/volunteers over large outdoor or indoor sites.
The security manager application allows for extensive customisation of intelligent e-forms and comprehensive reports, with the option to integrate with existing computer systems this can provide a new level in personnel monitoring and equally important personnel safety.